Monday, 20 May 2019
BIWEEKLY FAIR
The holding of municipal fairs always had a strong tradition in Minho. On the defined calendar day, especially the people who lived in the villages, they soon became accustomed to moving to the fairs, either to market their products or to stock up on products for themselves, the family, the home or their work . Farmers, seamstresses, housewives and marketers have become accustomed to living in this secular space.
This space is organized by sectors, with more than 100 places for non-sedentary retail trade.
The fair is held on Monday, every two weeks and has a free public car park. There is a food and beverage establishment inside the Bus Station and public toilets in the immediate vicinity of the premises, which serve as support for merchants and consumers.
Location:
Next to the Central Bus Station of Esposende
More Information:
On Mondays, from 6 a.m. to 6 p.m.
Saturday, 18 May 2019 to Wednesday, 22 May 2019
BIODIVERSITY WEEK
Over the course of several days, various activities dedicated to local and global biodiversity will be developed, with a view to sensitizing the inhabitants to the importance of preserving biological values. Consult the program at www.esposendeambiente.pt
Educational community and the community in general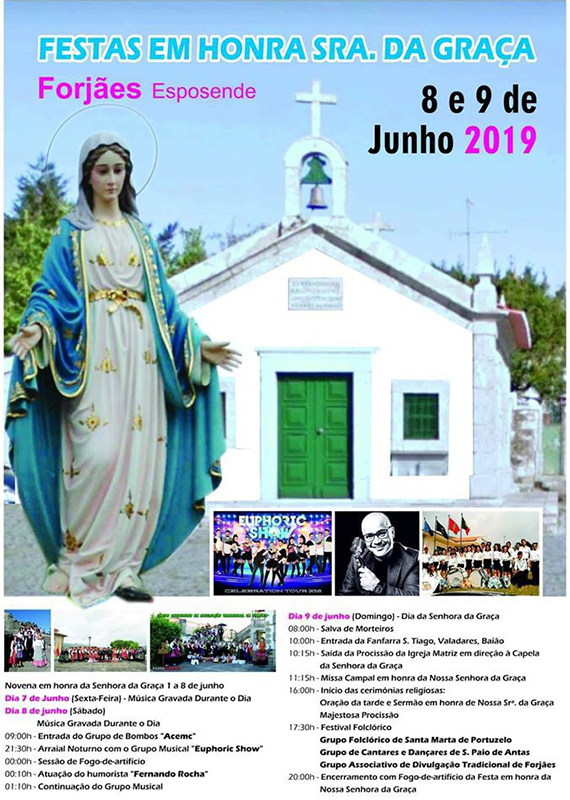 Saturday, 08 June 2019 to Sunday, 09 June 2019
SENHORA DA GRAÇA RELIGIOUS FESTIVAL
June is the Popular Saints - St. António, São João and São Pedro - however the start of the festivities this month takes place with the Senhora das Graças on the first Sunday of June. The Chapel of Senhora das Graças which is located in the ancient Holy Souto in Forjães, is a small temple of seventeenth moth, whose marks are drawn in straight lines from the main door, on the pediment and the pilasters.