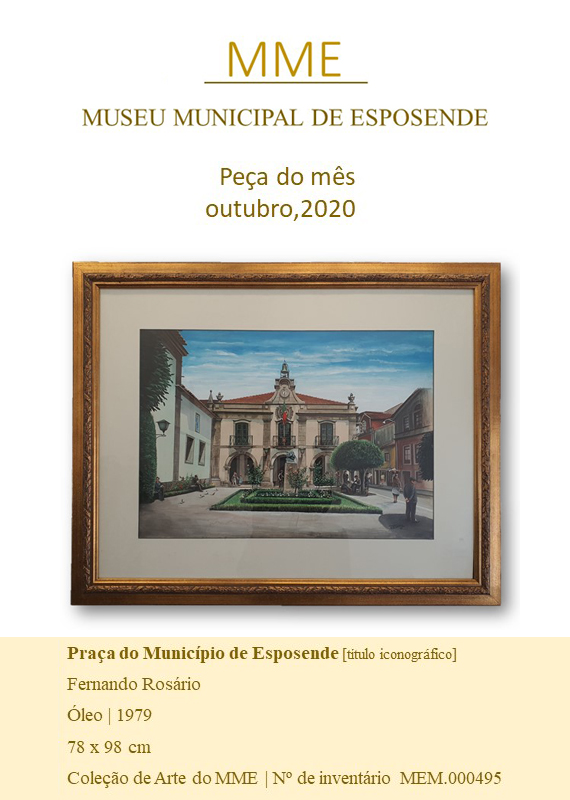 Thursday, 01 October 2020 to Saturday, 31 October 2020
PIECE OF THE MONTH IN OCTOBER AT THE MUNICIPAL MUSEUM
The October piece of art is the work of a local author, Fernando Rosário.
Fernando da Silva do Rosário (Esposende, 1950), naturalist painter, self-taught, showed early on his aptitude for the arts, namely for drawing. At 15 years old, he attended the night drawing course at the Carlos Amarante School in Braga. He worked as a designer in a lithography, refining his aesthetic sense, and assumes the strong influence of Mestre Pintor Henrique Medina (Porto 1901-Esposende 1988) in his portrait work.
In the 80s, he began to dedicate himself exclusively to painting, being also interested in the restoration of canvas. In 1992, he created his atelier in Esposende where he dedicated himself mainly to portraiture, although he also produced regional thematic works and sacred art.
His works are in several private and public collections. He is represented in the collection of the Municipal Museum of Esposende, which over the years dedicated some author exhibitions to him, the last being, "Vita Christi - Painting by Fernando Rosário and Arte Sacra", in 2018.
Location:
Municipal Museum of Esposende