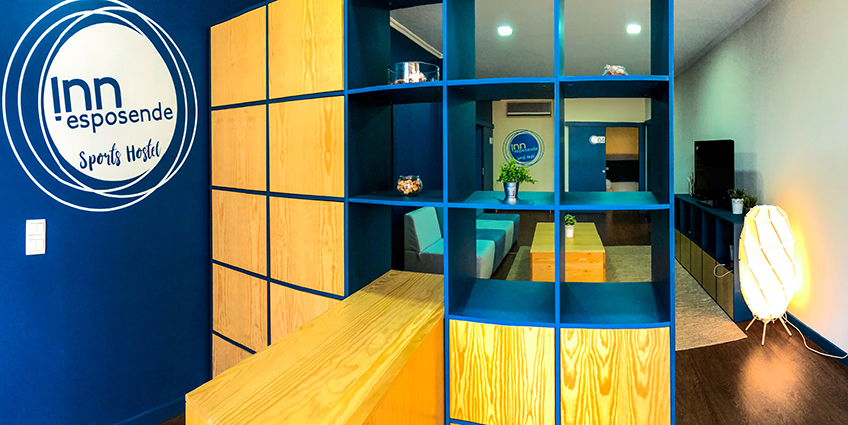 InnEsposende Sports Hostel
At your check-in at the InnEsposende Sports Hostel, a newly made bed will be waiting for you. We provide bed sheets and linen, and if you don't want to carry bath towels, we can help you with that as well. Don't worry, just relax!
We have dorm rooms with bunk beds for 2 to 6 people, as well as private single and double rooms. That way, you can choose to stay with new or old friends, book a room just for yourself or share it with your friend or partner.
The InnEsposende Sports Hostel has a WiFi connection available in all the common areas, but we suggest you turn off your phone and computer during your vacation! There are individual power outlets* and reading lights on each bed as well as individual and lockable storage compartments.
We serve breakfast every morning at the Sports Hostel, from 08:30 to 10:30. There is no menu as the breakfast is served as a buffet but you will find several types of bread, pastries, fruits, ham, fresh cheese, greek yogurt, muesli, granola, eggs, milk, fresh juices, tea, and coffee.
Esposende is a great location for adventurous travelers seeking for outdoor activities in a relaxing environment, nested by the Atlantic shore and surrounded by nature. The uniqueness of Esposende comes from its interaction between the Cávado river estuary, its lagoon and its dune system, and the Atlantic Ocean.
The lagoon allows premium conditions for kitesurfing and stand up paddle adventures, in an idyllic environment. Offshore on the ocean side, an outside reef slows down the Atlantic swells in some of the beaches, creating perfect conditions for surfing in a beautiful scenario along uncrowded sandy beaches with a variety of more or less exposed spots, suitable for every level of surfers.
Inland, the richness of this location allows everyone to enjoy multiple experiences of very different sports like hiking, mountain bike trails, yoga sessions, canyoning, horseback riding and much more, always in some stunning landscapes.
If you feel less sporty and feel like visiting the region, the proximity of Esposende with two of the most emblematic cities of Portugal will give you the opportunity to travel back in time while exploring medieval sites and discover the legacy of Porto and Guimarães and their world heritage historical center.
---
Rooms
Standard Multiple room

Standard Double room

Superior Multiple Room

Superior Double Room
---
Telephone
(+351) 939 990 070
E-mail
Address
Rua Conde Agrolongo, 22 - 4740-239 Esposende