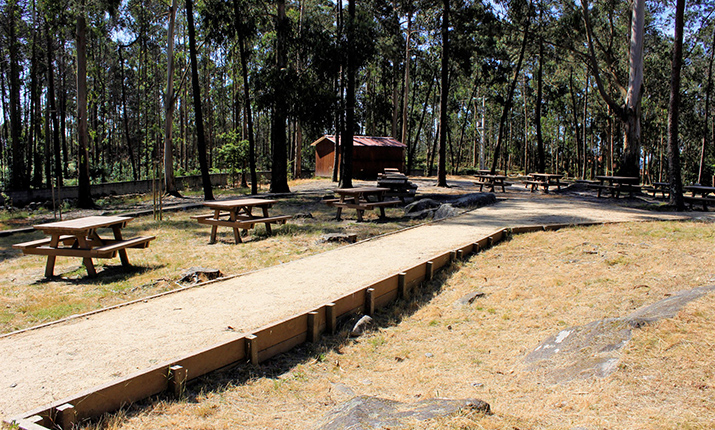 Picnic ParK of Monte de S. Lourenço
Location: Monte de S. Lourenço.
Accesses: EM550.
Coordinates: 41º33'26.59"N, 8º45'36.16"W
Equipment: Tables, chairs, water fountain (public network), parking, bathrooms, Interpretive Center, bar.
Description: Located in one of the most beautiful places in Esposende, as well as the best known, due to the archaeological station of Castro de S. Lourenço, a large area of the hill was recently acquired by the municipality and works of requalification and improvement were made to transform it into a leisure area. Of these, it results in a series of places to snack, with some auxiliary equipment, such as bathrooms, places for waste collection/separation and access paths, as well as a large and organized parking lot.
There are plenty of reasons to explore, from the extensive forest that follows you over the summit of Arriba Fóssil from Palmeira de Faro to Senhora da Guia. In addition to these, the millenary traces of human presence, since prehistory, always provide an argument for one more feature in these visits: knowing the past.

Parking: It allows large vehicles, passenger transport and a significant number of cars, motorbikes and bicycles to be stopped.
Cultural Heritage Appreciation: Castro de S. Lourenço and Monte de S. Lourenço Interpretive Center, megalithic monuments, chapel and viewpoint of S. Lourenço, Abelheira mills and wolfram mines dating from World War II.
Natural Heritage Appreciation: Arriba fóssil, forest of S. Lourenço and geological complex of S. Lourenço, with the castle and geoforms.
Services: Closest to the site only in the village of Vila Chã.
Routes: PR05 EPS "Fossil Clift: from Senhora da Guia to Monte Faro" and PR06 EPS "Castro de S. Lourenço Trail"